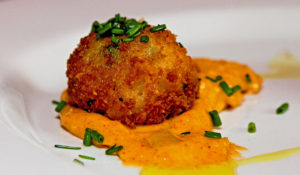 UPDATE: There is now a video recipe for Cioppino, the simple and easy seven-fish San Francisco stew: WATCH NOW
Italian-American families have their favorite dishes for Christmas Eve fish dinner – some serve 7 fish (for the 7 sacraments or 7 virtues), some serve 10 (for the 10 stations of the cross) and others 13 fish (for Jesus and the 12 apostles). I serve 7 fishes not for the religious symbolism but to draw family and friends to the table to enjoy a great 3-course fish meal and each other during the holiday season.
When I was growing up my family ate fish because it was a Catholic rule, no meat on Christmas Eve. We loved this meal so much we still cook it many years after the meat ban was dropped by the Church. It's a big part of my holiday tradition. You can catch some of my excitement in the video we just released. I fried up some squid.
If you want to eat some fish on Christmas Eve or any day of the year check out some of my fish posts from the past year. Cook one dish or a bunch at the same time. You'll be eating well in any case.
Let's see if we can get to 7 fish dishes. Your first one is Calamari Fritti above.
Continuing the antipasto (before the meal) theme, how about some steamed mussels and clams with a hunk of garlic bread for dunking in the broth? (Like the calamari fritti eat these as soon as they're done.)
Cod fish cakes anyone? If I was serving the cakes with other dishes in the antipasto I'd make the cakes much smaller, almost bite size. (You can make them ahead and warm them in the oven before serving.)
Maybe arancini (fried rice balls) stuffed with bay shrimp and served with a spicy aioli? (You can make them ahead and warm them in the oven before serving.)
Here's one that you can put out in the antipasto course or use as a secondo piatto (second course) dish. I always have to have some sole on Christmas Eve.
For the primo piatto (first course) linguine in a spicy crab tomato sauce.
Here's a great secondo piatto (second course), halibut baked with roasted cherry tomatoes, potatoes and green olives. I like to roast the whole fish, a branzino or sea bass, using this recipe. Just put the herb(s) inside the fish otherwise follow the original recipe. Debone the fish before serving.
That's 7, but hey, it's the holidays so here are a few more: fried shrimp, sword fish with salmoriglio sauce and  shrimp with oregano and garlic, simply roasted in a hot oven; and baccala salad below.
Check out my free vegetable eBook for some ideas of sides to serve with these fish dishes. Buon Natale!
[amd-recipeseo-recipe:78]
[amd-recipeseo-recipe:79]