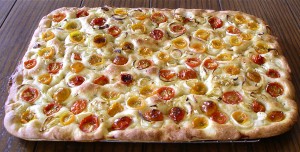 Off to a friend's birthday party. He asked me to bring an appetizer. I had a hard time coming up with one that would work–too messy, won't travel well, can't serve it at room temperature….
It had to be something special–this was my birthday gift. I needed the inspiration I knew I would find at the North Beach Sunday Farmer's Market. There they were–in the last stall at the bottom of the street.
The tiny tomatoes glistened like jewels. They inspired a gift to celebrate late August in San Francisco–a red and gold cherry tomato and young onion focaccia. These little gems burst with sweet tomato flavor when you pop them in your mouth. The gold ones were especially sweet.
They probably don't need it but I knock the flavor up a couple of notches with an EVOO marinade. The tomatoes and onions will caramelize while baking on top of the focaccia for more sweetened intensity.
This focaccia recipe is simple and quick to make –especially if you don't count the time it takes the dough to rise.
[amd-recipeseo-recipe:45]
Guess the focaccia turned out good. Several plates didn't last long at the party. The crust was crunchy at the edges and the interior airy and light. The tomatoes and onions were reduced to their sweet essence. I drizzled some of the marinade on top to moisten the scattered dry oregano as soon as the golden focaccia emerged from the oven.
Ah you gotta love the late August bounty even if everything is 2 or 3 weeks late this year. It's been a chilly summer. My tomato guy says he'll have the first crop of San Marzano tomatoes next Sunday if they get some good sun and heat this week. He only watered them once all month. They're gonna be meaty. I can't wait.