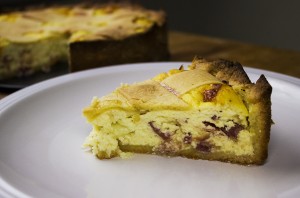 Easter 2012 Update!
I put together a 4-course Easter dinner menu with wine pairings that your family and friends will love. Pizza Rustica is the opening act and Pastiera Napoletana is the closer. Check out the menu post that includes my video demonstrations and text recipes for each course.
This year for Easter I'll be in Virginia with my sister Lucia and brother-in-law Carlo, my nieces and nephews, their spouses, and my great nieces and nephews. It's a three-generation cooking branch of the family. We'll all be in the kitchen making the pizza rustica and pastiera napoletana, probably on Good Friday. But, we won't eat them until Easter Sunday.
Serve the pizza rustica as part of the antipasti course and the Pastiera as your dolce (dessert).
The pastry crust recipes are  basically the same for both except I leave out the sugar and lemon rind in the torta rustica crust. These are very versatile pastry crusts that can be used in many applications.
Buona Pasqua! Happy Easter! Buona Primavera! Happy Spring!
Pizza Rustica
This savory pie is also called torta rustica, pizza ripiena, pizza chiena or in Neapolitan-English slang, pizza gain.
[amd-recipeseo-recipe:10]
[amd-recipeseo-recipe:11]
[amd-recipeseo-recipe:12]
Pastiera Napoletana
This is probably the most famous Neapolitan pastry and it is one of my absolute favs. But, I still only make it once a year at Easter. Here in America, Pastiera is sometimes called pizza grano, Easter sweet pie, ricotta cheese cake, pizza or torta dolce.
[amd-recipeseo-recipe:13]
[amd-recipeseo-recipe:14]
[amd-recipeseo-recipe:15]