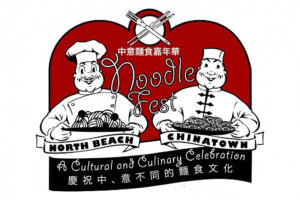 Sunday, May 1st, is the 2nd annual Noodle Fest, a joint neighborhood street event that spans Chinatown and North Beach. I'm proud to be presenting the North Beach pasta demonstration at 2:00pm and 4:00pm. I'll be at Vallejo and Columbus. Noodle Fest is organized by the Chinatown Community Development Center and North Beach Merchants Association.
Price of admission includes food and beverage samples from both sides of Broadway.
Here's the pasta I'll be making, in front of your eyes, representing the colors of the Italian flag:
Spinach Pasta (Green)
Poor Person's Pasta (White)
Beet Pasta (Red)
I'll be cutting fresh fettucine and tagliatelle, and maybe a couple of other shapes as well. Also I'll make fresh ricotta and mozzarella ravioli.
From the organizers:
Bring your confirmation printout to receive your passport at the will call tables, which entitles you to three noodle samples from Chinatown, three pasta samples from North Beach and one beverage.

Come out and sample delicious noodle and pasta dishes from over thirty restaurants from Chinatown and North Beach! This year, we are adding drinks to our menu as well! So come ready to mingle, enjoy live entertainment, watch noodle making demonstrations by renowned chefs, and slurp the afternoon away!

Date and Time: Sunday, May 1, 2011 from 1pm to 5pm

Event Location: Grant Avenue (btw Pacific and Vallejo) & Vallejo Street (btw Columbus and Grant)
Should be a great day outside in the Village. Get tickets now because it'll sell out fast. Details and ticket sales here.