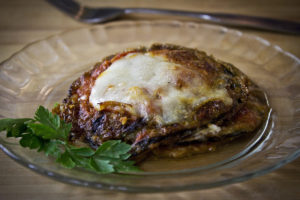 Melanzane alla Parmigiana (Eggplant Parmigiana) – the dish I cut my teeth on. Loved it then, love it now, and make it often. Imagine perfection: the golden eggplant sauteed in a tasty egg wash, baked in the oven with tangy concentrated tomato sauce, sweet basil, creamy melted mozzarella, with a nutty parmigiana reggiano crust. It's my favorite dish, rich and satisfying; it can keep a man alive for days.
Of course that's assuming you're lucky enough to possess eggplant parmigiana left overs after your meal is done. Because it actually tastes better the next day after some overnight magic melding of flavors. If you're the preserving type, consider portioning your left-overs and freezing. Impress the unexpected and unsuspecting dinner guest with tomorrow's eggplant parmigiana or satiate yourself on a night when there's just nothing else to eat. Or, mix it up a bit. Eggplant parmigiana makes a great panino (sandwich) especially with a soft, chewy bread like ciabatta for tomorrow's lunch. The possibilities are endless.
I often serve the melanzane alla parmigiana with roasted sausage. A simple arugula salad with EVOO and wine vinegar is a great accompaniment. I put the salad on the table and my guests can have it with the eggplant and sausage or as a separate following course.
Can't talk about Eggplant Parmigiana without debating breadcrumbs. I often fry eggplant coated with breadcrumbs. Those crunchy slices are delicious and can be used in many dishes but I just don't recommend using a breadcrumb coating in this recipe. You risk crisp and crunchy for soggy, a dangerous detraction from the dish. Mother made it best. She always does.
But I pass on to you the delicious, the dynamic, the perfect left-over, Eggplant Parmigiana.
For the Sauce
Ingredients
2-tablespoons extra virgin olive oil
1-2 garlic cloves, smashed and peeled (Ba-Boom)
1 28-oz can San Marzano tomatoes, crushed by hand, any peel or stems removed
1 sprig fresh basil
1 tablespoon dried oregano
1-teaspoon sea salt
Directions
Put a pot over medium-high heat.
Add the olive oil and the garlic
Saute the garlic for about a minute in the hot oil
Add the tomatoes, basil and oregano to the pot, stir well
Put the lid ajar on the pot and simmer over medium heat for about 15 minutes or until the sauce thickens and has reduced by about about a quarter in volume
For the Eggplant
Ingredients
1 large eggplant
2-tablespoons sea salt (to drain the bitter liquid from the eggplant)
1 cup flour for dusting the eggplant
2 eggs
2 tablespoons Italian flat parsley, chopped
1/4 cup grated pecorino cheese
1/2 cup grated parmigiano-reggiano
1 pound fresh mozzarella sliced thin
1 teaspoon sea salt
1 teaspoon freshly ground black pepper
2 tablespoons extra virgin olive oil (or if using only olive oil, 4 tablespoons)
2 tablespoons canola or your favorite oil
10 basil leaves, or more as needed
Directions
Remove both ends of the eggplant
Cut the eggplant in about 1-inch slices
Sprinkle salt on both sides of the slices and line them in colander, put it in the sink as the bitter dark liquid drains
Wash the slices well and pat dry.
In a bowl, add the eggs, pecorino, parsley, salt and black pepper and beat well
Put a large skillet over medium-high heat, add the oil to the pan and bring it to a ripple
Put the flour in a bowl and lightly flour the eggplant slices
Dip the slices in the egg wash and coat well
Fry the eggplant until both sides are golden brown
Remove to a platter lined with paper towel
Continue frying the eggplant and add more oil as needed.
Assembly
Preheat the oven to 375 degrees
In a large baking dish, spread some sauce on the bottom
Add a single layer of the fried eggplant slice (save the best slices for the top layer)
Put a dollop of sauce on top of each slice
Rip the basil leaves and add a piece on top of each slice
Liberally sprinkle the grated parmigiano all over
Repeat this process until all the eggplant is layered in the dish
For the top layer add the mozzarella and then sprinkle of grated parmigiana all over
Bake the eggplant for 20-30 minutes or until the top begins to turn golden brown
Serve immediately or at room temperature