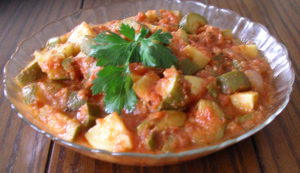 A fan reminded me that zucchini is overflowing the garden. Here's a delicious, fast and easy recipe to help you use up this prolific summer vegetable. Use ciambotta as an accompaniment for fish or meat or as part of an antipasti.
Gagootz is an Italian-American word for zucchini. It derives from the name of an Italian squash cucuzza. I eat a lot of gagootz. I love it in a frittata (egg pie), baked with a savory rice and ground meat stuffing, fried and marinated, or in a dish similar to eggplant alla parmigiana.
But one of my favorite dishes is a version of ciambotta or in my slang jambot. It's a stew that includes any of your favorite summer vegetables. My version is just zucchini, onions and potatoes in a tomato sauce. I'll eat just a big bowl of jambot with some great crusty bread for a simple lunch or dinner. Make a lot–it keeps well for several days.
(The original post also had a recipe for marinated fried zucchini, zucchine alla scapace. That recipe can be found here.)
Ciambotta (Zucchini, Potato, Onion & Tomato Stew)
Ingredients
1 pound

small to medium zucchini

1/2 pound

Yukon gold potatoes

1/2

onion

1 clove

garlic chopped

3 tablespoons

EVOO

1 cup

passato di pomodoro or San Marzano tomatoes

1 teaspoon

dried oregano

sea salt

freshly ground pepper
Cooking Directions
Cut off the ends of zucchini and cut in half. Cut each half into 1 inch slices.
Peel the potatoes if you wish. Quarter each potato and cut each quarter into 1 inch slices.
Peel the onion and cut the half onion in half parallel to the root end. Cut each quarter into 1 inch pieces perpendicular to the root end. You want the zucchini, potatoes and onion to be about the same size.
Roughly chop the garlic.
Put the EVOO, onion and garlic in a pot and heat over a high flame until the onion is a bit translucent.
Add the zucchini and potatoes. Saute until they pick up a bit of color.
Add the passato. Stir in the oregano and salt and pepper to taste.
Reduce the flame to low and simmer with a lid ajar on the pot. Simmer until the zucchini and potatoes are fork tender and the sauce has reduced a bit. This may take 45 minutes or so.
Serve hot or at room temperature with a drizzle of finishing EVOO.
Categories:
Blog
,
In Season
,
Ingredients
,
Italian American
,
Meal Menus
,
New Jersey
,
North Beach
,
Photo
,
Recipe Categories
,
Recipes
,
San Francisco
,
vegetables
,
Vegetables
,
Vegetables display