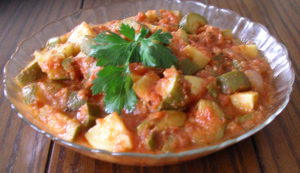 A fan reminded me that zucchini is overflowing the garden. Here's a delicious, fast and easy recipe to help you use up this prolific summer vegetable. Use ciambotta as an accompaniment for fish or meat or as part of an antipasti.
Gagootz is an Italian-American word for zucchini. It derives from the name of an Italian squash cucuzza. I eat a lot of gagootz. I love it in a frittata (egg pie), baked with a savory rice and ground meat stuffing, fried and marinated, or in a dish similar to eggplant alla parmigiana.
But one of my favorite dishes is a version of ciambotta or in my slang jambot. It's a stew that includes any of your favorite summer vegetables. My version is just zucchini, onions and potatoes in a tomato sauce. I'll eat just a big bowl of jambot with some great crusty bread for a simple lunch or dinner. Make a lot–it keeps well for several days.
(The original post also had a recipe for marinated fried zucchini, zucchine alla scapace. That recipe can be found here.)
[amd-recipeseo-recipe:33]