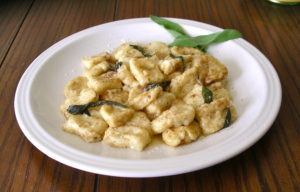 The rising popularity of the potato gnocchi video prompted me to share a simpler gnocchi recipe using ricotta to make the dough instead of potato.
Ricotta gnocchi are quicker to make and lighter than the potato version. The dough is ready in a jiffy and the sauce is finished as the gnocchi boil. I love these little soft pillows. Sometimes I give them a light finger poke to create a little "belly-button" on one side to ensure they'll cook evenly.
The dough and ricotta gnocchi are made using the same methods as in my potato gnocchi recipe. Watch that if you want a visual of how to make gnocchi. The sauces in that episode go well with ricotta gnocchi too.
I reached up to northern Italy for the sage burnt butter sauce. You see it in Tuscany and the Veneto. This is a great sauce to add to your repertoire. It pairs well with gnocchi and other fresh pasta to create a full-flavored but delicate dish.
[amd-recipeseo-recipe:42]
[amd-recipeseo-recipe:43]