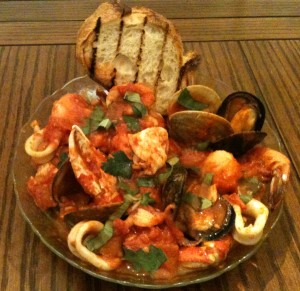 Cioppino has been on my mind lately. Some of my fans asked me to share my recipe so I just had to make it today.
Cioppino is a San Francisco original created by the Italians on Fisherman's Wharf in the 1800s. The local story is that when the boats came in at the end of the day a big pot with tomatoes was put on the fire and the fisherman "chipped in" pieces of that day's catch. They'd call to those who hadn't donated yet. "Hey Guiseppe you gonna chip-in-o? Ciopinno was born.
More likely Cioppino comes from the Ligurian dialect. Some of the earliest Italians who settled in North Beach were from Genoa and other parts of the region of Liguria. They were fisherman in Liguria and they became fisherman on the Wharf. Cioppino is probably derived from "ciuppin" which in the Ligurian dialect means "little soup", a fish stew.
This is an ecumenical dish. Sicilians later joined the Genoese on the Wharf along with Portuguese fisherman. They all added their own touches to this dish and the pot on the Wharf probably had different fish each day depending on what was left over on the boats.
I'm using local halibut, clams, mussels, calamari and prawns. Oh, and dungeness crab. I couldn't find any in the fish markets. We're out of season here in San Francisco. I was desperate. I went to see my friend Gigi at Sotto Mare in the Village. Gigi wasn't there but Louisa hooked me up with a big, beautiful crab from the waters off Oregon.
This is really an easy dish to make. Saute the vegetables and herbs, add the tomato and simmer until you reach the consistency you want. I like a thicker tomato sauce but still with enough broth to dunk a piece of toasted sour dough garlic bread. Once the sauce is to the proper consistency put in the fish, cover the pot and simmer until the mussels and clams open. Top with basil, parsley, a drizzle of a good finishing EVOO and your ready to dive in.
The fish is just cooked through, tender and sweet bathed in the tomato sauce scented with onion, garlic and herbs. The sparkle of the red pepper flakes hits the back of your mouth as you swallow each bite. The zesty flavor of the sea in a bowl.
Make the tomato base and use any fish that you like. Make Cioppino you're own. Here's mine. Buon appetito.
[amd-recipeseo-recipe:65]