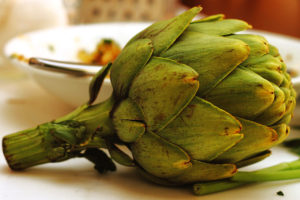 Italians love their artichokes and Romans know how to treat them.
I first had this dish in the Jewish Ghetto in Roma at Giggetto al Portico d'Ottavia sitting outside on a hot summer day with a glass of chilled Frascati and the Portico ruins as our vista.
This is my interpretation of that dish. It is one of my favorites second only to my mom's artichokes stuffed whole and roasted in the oven. Those are messy to eat. You gotta scrape the leaves with your teeth to get the meat and stuffing. With these you can eat the whole thing!
[amd-recipeseo-recipe:16]