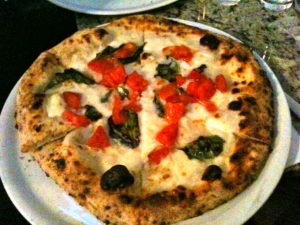 I've been following Anthony Mangieri for years on both coasts. Actually I've been following his pizza.
The guy had a reputation for making pizza Napoletano, pizza as made in Naples where it all started, my personal favorite. Some even said that Anthony's pizza was better than you can get in Naples and certainly the best in America.
The only problem was that his pizzeria in New York City's East Village was only open until he ran out of dough and you had to wait on the sidewalk a couple of hours to get in. Hey, it's only pizza. I ain't waiting, so I never went.
I got excited when I heard that Mangieri was closing his New York place and moving to San Francisco. The city's beauty beckoned. Hell, he could make pizza anywhere, right?
I followed the progress at his new SOMA pizzeria, Una Pizza Nepoletana on 11th near Folsom. Anthony didn't like the first brick oven he imported from Naples. He ripped it out and 40 grand later he had a new wood-burning beehive brick oven that suited him better. Mangieri's pizza is artful.  No less would do.
When he finally opened, same thing. The wait on the sidewalk was 2 hours. Hey, it's only pizza. I ain't waiting.
I got a chance to walk right into Una Pizza Napoletana one night at a private event. No waiting. There was Mangieri, a solitary figure standing at a stainless steel worktable in the middle of a large room. The Maestro was at his alter. The brick oven was behind him, watched over by Saint Anthony of Padua, the patron saint of fire. Read all about that special night at Mangieri's Una Pizza Napoletana and some of the best pizza I've ever eaten.
In Paolo Lucchese's article about Mangieri in Sunday's Chronicle, Anthony says that some nights the pizzeria is empty now. What happened to the 2-hour waits?
When Anthony first started making true pizza Napoletana in Jersey years ago, nobody knew what it was. In just the last few years, pizza Napoletana became famous. Lots of places making Neopolitan-style pizza opened in San Francisco. Farina, Zero-Zero, Tony's Pizza Napoletano, Pizzeria Delfino, Flour and Water, Mozzeria, the list goes on and on.
We're in a pizza bubble and I'm think it's about to burst. Can all these places survive as the glow of pizza oven fades and the crowds more on to the next new craze?
I think Anthony will be making pizza for a long time, no matter what. It's in his blood. If you haven't been to Una Pizza Napoletana visit Mangieri soon. You won't be disappointed. Just don't ask for a salad.
Here's Paolo Lucchese's Anthony Mangieri article from Sunday's Chronicle and some extra "scenes" with Anthony that Paolo didn't include in the article.