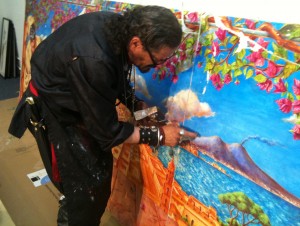 It's just been 2 weeks since we saved the severely damaged Song of Pulcinella mural and rolled it across Columbus Avenue to a safe haven. It's been a week since I brought the San Francesco statue to Emerald Tablet gallery to oversee the restoration.
The muralist Vranas was worried about the seam where the 2 big pieces were joined together. Sean O'Donnell had lined it up perfectly and Vranas repainted the vertical rip beautifully.
Vranas will finish the last shattered corner today. It may be the toughest section to conquer. Thank you San Francesco, Song of Pulcinella is almost back.
Leah Garchik picked up the restoration story in her Friday Chronicle column. Scroll down Friday's column to find it.
Thanks to Andre Hunt for his video of Vranas working on that last corner.