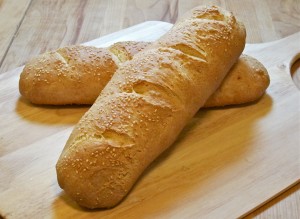 I recently spent a delightful evening with my friend Viola Buitoni, a wonderful Umbrian cook and teacher, and Carol Field, the San Francisco author of the just reissued classic, The Italian Baker.
Viola hosts the wonderful Italian gastronomy series at the Italian Cultural Institute.  The presentations are free and I highly recommend them if you want to gain new insights into Italian food and culture.
Carol explained the special place bread and bakers hold in Italian culture and the incredible differences in bread from one part of the country to another, sometimes from one village to the next. There are 1,500 varieties of bread in Italia.
I agree that no Italian meal is complete without great bread on the table. When in Italia I love to explore the local bread bakeries (panificio) and enjoy their specialties – salt-free bread in Florence, the focaccia in Genoa and Venice, the fat bastone loaves in Naples, the Sicilian semolina bread in Palermo.
Carol learned from artisan bread makers throughout Italy. She often joined the bakers at three in the morning as they started baking bread for that day. She painstakingly reduced their large volume recipes and adapted them for the American kitchen. Her recipes maintain the integrity of the Italian original. Carol so inspired me that I had to bake bread this weekend.
This is a version of the bread I grew up on in northern Jersey. We always had a hot loaf from Calandra's on First Avenue in Newark on our family dinner table. I ate a lot of great Sicilian semolina bread from Bergen County Italian bread bakeries when I was In Jersey for Thanksgiving with family a couple of weeks ago. I've been craving semolina bread with sesame seeds ever since.
I adapted Carol's Pane Siciliano recipe to satisfy my craving. It's hard to find any Italian bread with sesame seeds in San Francisco never mind one made with semolina flour. Italian-French on Grant at Union sometimes makes a soft twist with sesame seeds and La Boulange sometimes has an Italian loaf with sesame seeds. Both are good but they're made with unbleached flour. I had to make this one with semolina flour for myself!
The bread has a chewy golden crust and a tender interior turned a pale yellow by the semolina flour. The sesame seeds add a nice nutty flavor.
[amd-recipeseo-recipe:75]