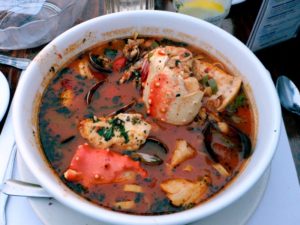 I'll do The Scranton Times Tribune a huge favor and refrain from telling any Dunder Mifflin jokes in this post. It's the least I can do, since this article they ran explains how the fabulous one-pot alternative to the traditional Christmas Eve  7-fish meal that originated here in North Beach – Cioppino – was a winner in their "Recipes We Love" contest!
Cioppino, for the uninitiated, is a seafood stew made with crab, clams, shrimp and various other types of fish. It was created in the late 1800s by Italian fishermen from San Francisco's North Beach area. As the story goes, a group of them gathered after a long day at sea and began throwing that day's catch into a large soup pot.
In addition to giving the recipe, the article tells the lovely story of how its owner, 91-year-old Lithuanian immigrant, Ann Randazzo, inherited it from her Italian-American mother-in-law who'd worked in a cannery in San Jose early last century. It'd been given to her by a Portuguese-born friend of hers. The head spins at the global span of this recipe's history!
But it's travelled too far for me.  Let me bring this recipe back to its North Beach roots. I'll post my cioppino recipe soon. But here are some suggestions in the meantime.
Ingredient Modification
No stewed tomatoes. Use San Marzano from Italia.
No green onion. Rough chop a half of yellow onion.
Save the chopped parsley to spread over the finished dish. Throw in 2 parsley sprigs to the sauce instead.
No king crab. 1 or 2 fresh dungeness crabs, broken into pieces. See my linguine with crab sauce to see how to handle fresh crab.
No imitation crab. Put in a couple filets of fresh sea bass or your favorite fish.
No chopped canned clams. Just use 2-3 fresh little necks/person instead. You could add some mussels too.
Instruction Modification
Give the crab pieces a head start when the sauce is simmering just below the boil, 2-3 minutes. Then put in the fish filet and the shrimp. Watch them they might be done in less than 15 minutes. Don't go too long with the crab, shrimp and filets because they'll continue cooking for the 3 or so minutes it will take the clams/mussels to open.
When the shrimp are starting to go pink and curl and the filets are no longer very translucent add the little necks and mussels if your using them. The sauce is done when the clams/mussels open. Discard any clams/mussels that don't open.
Mrs. Rendazzo says she likes to let the sauce stand for an hour or two. I wouldn't. The fish will be way overcooked. Serve immediately.
Top each bowl with a drizzle of good EVOO and the chopped parsley.
No grated cheese. Savor the fresh unadulterated taste of the sea.