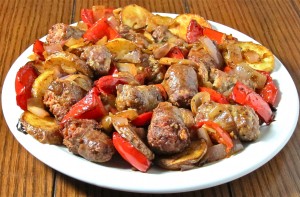 Italian-Americans celebrate their patron saint with a neighborhood street festival each year. Festa San Gennaro in NYC's Little Italy may be the biggest. My Rhode Island friends call these fairs Our Lady of Sausage and Peppers because the streets are lined with stalls grilling sausage and peppers for sandwiches on an Italian roll. I always have to eat at least one.
Here's an easy one-pan recipe for this Italian-American classic. It's a really flavorful dish you can make in less than an hour for a quick dinner or for sandwiches. The trick to this recipe is cooking the ingredients in stages and then putting them all together in the pan at the end.
I used hot Calabrian and mild or "sweet" Sicilian sausages from North Beach's Little City Meats (Stockton and Vallejo) with Mezzetta Sweet Cherry Peppers preserved in vinegar.  G.L. Mezzetta Inc. started in the 30s as a small North Beach mom-and-pop store. Now located in the North Bay and run by the fourth-generation of the Mezzetta family their products are available nationwide.  If I don't have vinegar peppers I made myself I always use Mezzetta.
Serve the sausage and peppers on a plate for lunch or dinner with some crusty bread or make sandwiches on an Italian roll. Either way it's a mouthful of flavor with each bite.
[amd-recipeseo-recipe:85]