Remember Stars? The Public Library exhibit San Francisco Eats opened Saturday with a great panel who recounted the last 25 years of San Francisco food, including that Jeremiah Tower landmark restaurant.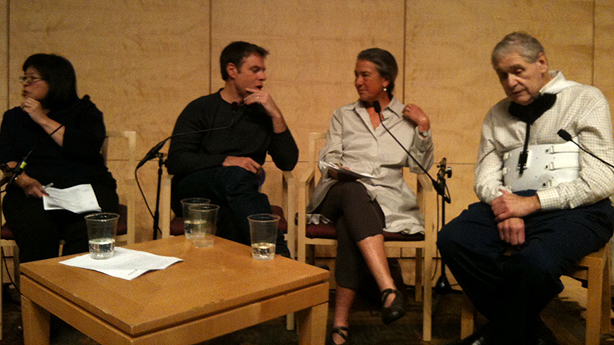 The highlight of the discussion
In 1995, San Franciscans didn't know what they had. That's why Gene Burns started his KGO/AM food, wine and travel show. He had to convince us that we were the food mecca of America. His interests are broad and deep and he shares it all. The greatest thing he said, though, was that San Francisco should declare culinary war on New York for the title. He even claimed he once tried to organize a battle, but that NYC declined because they knew they'd lose, for the following reasons:
We have great local produce, fish, meats, cheeses, artisan food products and wines.
Culinary talent, ethnic diversity, and fabulous food opportunities abound.
We're passionate and serious foodies.
The crowd in the auditorium, in true SF style, seemed uneasy with how much they agreed with him.
Other notable stuff…
Joey Altman
Altman was humble, perhaps too humble. His Bay Cafe cooking show was a favorite of mine from 1998, and it became a model for behemoths like Food Network. No bullshit (well maybe a little), just cooking. He couldn't keep up with the Food Network celebrities as food gave way to glitz.
Patricia Unterman
Unterman seemed very melancholy about the web, calling herself a "dinosaur" repeatedly. I think not. When I arrived in the city, she was my first food guide as the Chronicle's restaurant critic, and her Hayes Street Grill remains an inspiration of local and fresh food. She's locked in at the Examiner, a fading print newspaper growing smaller and smaller. She wants room for more words. She deserves it.
Melanie Wong
Wong saw the food web grow for over a decade and her Chowhound discussion board is a must read. She understands food in the cultural context and is a smart, wide-ranging observer of the diverse San Francisco food scene. In countering Unterman's pessimistic view of the internet and it's diffusion of expertise, Wong gave the necessary (if predictable) response: Many use their social network to get food advice and with good search tools you'll find the web cooking resources that are right for you.
I couldn't agree more!