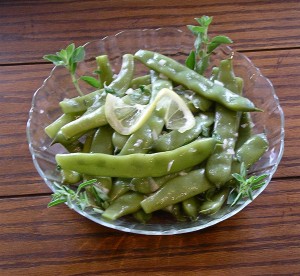 Gotta love this time of the year when so many fantastic vegetables are in season. I get excited in anticipation of each farmer's market visit. Sometimes my favorite farmers give me a preview of what's about to be harvested and brought with them on their next trip to the City. But most often I revel in the joy of discovery wandering from one stand to the next.
Romano beans (aka Italian flat beans or pole beans) are plentiful this time of the year. I saw them this morning at the market and grabbed up a bunch.
Here's a simple recipe that brings out the full flavor of the bean. You can enjoy them as soon as you make the dish but they are at their peak if you let them stand in a covered bowl for a few hours or even overnight so the dressing is absorbed by the beans.
The Romano Bean Salad can be served as a side with meat or fish or as part of an antipasti.
If you are into crunchy vegetables this recipe is not for you. It's important to cook the beans in boiling salted water until they are tender. They will take on the color of an olive.
[amd-recipeseo-recipe:37]