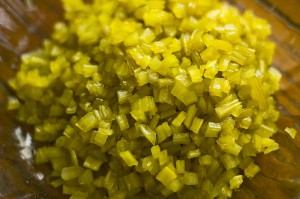 Preserved vegetables are a staple in the Italian pantry. This celery relish or chutney is a great accompaniment to salumi and cheeses either on their own or as part of an antipasti. The little cubes of celery glisten like tiny emeralds and its sweet-sour flavor is a wonderful surprise.
Ingredients
2 pounds firm celery stalks
3/4 cup sugar
¼ teaspoon sea salt
½ cup fresh lemon juice
Instructions
Remove any strings from the stalks. Cut them lengthwise into 1/8-inch matchsticks. Cut the sticks crosswise into 1/8-inch cubes. This should yield about 6 cups.
Put the sugar and salt in a saucepan and add the lemon juice then the celery. Cook at medium-high, stirring until the sugar and salt dissolve and the celery releases some of its liquid. Bring the syrup to a gentle simmer, stirring frequently.
Cover the pot and cook for about 15 minutes, stirring occasionally. Uncover the pot and cook at a simmer, stirring frequently until all of the liquid is absorbed.
Cool completely before serving. You can store the mostarda in the refrigerator in a tightly sealed jar for a couple of months.