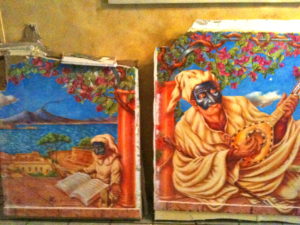 I checked in with Della and Lapo at Emerald Tablet Sunday morning. They've been instrumental in crafting our Song of Pulcinella mural restoration plan. We started to get our heads around the project. We need a carpenter. We need to talk to Vranas, the artist who created the mural. We need to get the restoration done quickly on a near zero budget.
I've met Vranas in North Beach caffes over the years, but I didn't really know him. He's lived in the Village, on and off, for decades. North Beach is home to four Vranas murals – the incredibly detailed Roman Forum at Viva, the Greek farm scene above Nature Stop's produce case, the life-size portraits of great Irish writers at O'Reilly's and the newest one, the one we almost lost – The Song of Pulcinella.
Sunday night we met at the gallery. Vranas saw his wrecked mural for the first time. He cried when he told me he was surprised anyone would try to save it. We've lost a lot of North Beach over the years. I didn't want to add Vranas' mural celebrating Napoli to the list of things that once were.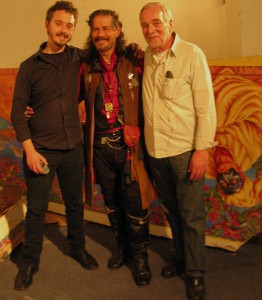 Vranas said the mural could be made whole again. When I left hours later I was energized. Out of respect for one of North Beach's great artists, Song of Pulcinella has to be put back together and hung in a place of honor for all to enjoy.
Next, I called North Beach handyman, Sean O'Donnell. I told him my story and asked if he could help. "I know Vranas. I'll meet you at the gallery tonight. We'll see."
Vranas and Sean inspected the mural and explored options for putting it all back together. Vranas talked about imagining the work and how he created it. (Google Earth inspired the city part of the mural.) "Be careful with this raised edge" he warned Sean, "or we lose the trompe l'oeil."
Restoration ideas filled the gallery. A plan was emerging. No power tools, so the studs may stay. Plywood backing to stabilize the drywall. The two big pieces reunited from behind and the fragments re-attached. Plaster to fill the gaps. We all agreed. Easy, huh? We've got two weeks to get the restoration done. I think this North Beach gang just might have a shot at it. Pulcinella is watching, you know.
Sean will start work on the mural Saturday. We'll all be there. Stop by and say hello.