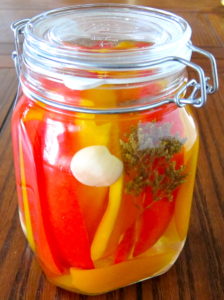 Here's a really simple recipe to capture the bell pepper bounty in a jar for your winter pantry. Just slice the peppers into strips, make the vinegar brine and put everything in a jar.
Pickled peppers, or "vinegar peppers" as my family calls them, keep in the refrigerator for a long time. I usually eat them all before I even get close to the end of their shelf-life. These peppers are great as a crunchy snack, on an antipasti platter, on a panino, and as a bright, piquant ingredient in some of my recipes. I always keep some of these peppers around. You never know when you'll need them.
The hardest part of this recipe is cleaning and cutting the peppers. Everything just goes in the jar. Let them cure for at least 24 hours and enjoy.  The pickled peppers just keep getting better as they sit in the brine.
[amd-recipeseo-recipe:67]