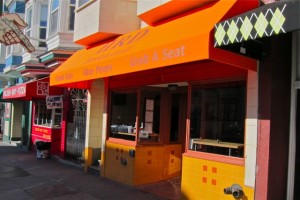 Lots of good things happening in the Village food scene.
Dogfather's on Green is now HRD Smokin Grill, right next to Golden Boy Pizza on Green Street. The folks from the SOMA's HRD Coffee Shop have staked a claim that they can draw a crowd for their famous spicy pork kimchi burrito and Mongolian cheesesteak. Dinner only for now. Here's Guy Fieri's video of his visit to the original HRD Coffee Shop.
Tony Gemigniani got 2 1/2 stars in Michael Bauer's Capo's review in Sunday's Chronicle. Tony's Pizza Napoletana on Stockton is a blockbuster and Tony has scored with his latest endeavor that celebrates Chicago's Italian-American food traditions. I agree with Bauer, hats off to Tony for creating some nostalgia in North Beach. We've lost too many old-time places. Capo's with its '30s look and feel is most welcome.
Tosca Cafe has been facing eviction since the fall. Would the North Beach icon go the way of Caesar's and other North Beach institutions that were shuttered over the last few months? The answer is a resounding no. New York City celebrated chef April Bloomfield and her partner restauranteur Kevin Friedman who own The Spotted Pig in Greenwich Village and other spots, bought the place.
They pledge to keep Tosca as it has always been.  That may include keeping the former owner Jeannette Etheridge around to reign over the place as she had for decades. The new owners are adding a full food menu. I can't wait to see what the talented Bloomfield has in store for us.
Fior d'Italia re-opened late last month after a brief hiatus. Chef-owner Gianni Audieri promised a come back when he closed the restaurant last year. Now that it's back I wonder if will regain the title "oldest Italian restaurant in America".
Geppetto, the Italian deli across the street from Capo's has been "on vacation" for months. Pete Mrabe who owns the popular Don Pisto on Union and Chubby Noodle, the just-reopened permanent pop-up in Amante's on Green, is taking over the space. Fresh pasta and sandwiches are on the menu. I haven't seen much activity in the space so it may be a while before it opens.
Txoko, the Basque place on Broadway closed on New Year's Eve. The outrageous sandwich shop Naked Lunch took over the space and opened this weekend.
So when's the last time you visited North Beach? Lots of fantastic new and well-established food choices beckon. What are you waiting for?
Buon appetito!