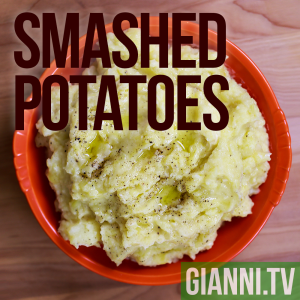 This is part one of a 2 part Thanksgiving special. Stay tuned for part two next week.
Easy and delicious, mashed potatoes flavored with mellow roasted garlic and extra virgin olive oil, pairs well with meat, fish or poultry.
My Mom didn't call them mashed potatoes, she called them "smashed" potatoes and I still do. I like chunks of potato for that toothsome feel. But I like a smoother or whipped version of mashed potatoes too.
Make your mashed potatoes anyway you like them. Mash them more, whip them with a whisk or a hand beater, or put the hot potatoes through a ricer if you want a smoother or whipped consistency, then add the roasted garlic and olive oil.
Any way you make them just get them to your guests while they're still piping hot. .
For Thanksgiving this year I'm serving with my smashed potatoes with a roasted boneless turkey breast stuffed with sauteed spinach and prosciutto that's in and out of the oven in less than 90 minutes.
It's a complete easy and quick dinner with protein, veggies and carbohydrates all on the plate.
We'll publish the turkey episode next week so be sure to subscribe now.

Garlic & Olive Oil Mashed Potatoes
Roughly mashed potatoes flavored with mellow roasted garlic and extra virgin olive oil. Punch you spuds up a notch with this easy recipe.
Ingredients
1 head garlic, roasted
3 tablespoons extra-virgin olive oil
2 pounds yukon gold potatoes
1 cup whole milk
sea salt and freshly grated black pepper to taste
Instructions
Heat the oven to 375 degrees.
Cut the top off of the garlic bulb.
Sprinkle olive oil on the top of the exposed cloves.
Tightly wrap in aluminum foil and roast in the oven until the cloves are squeezably soft, about 30-40 minutes. Set the garlic aside to cool,
Put the unpeeled potatoes in a pot. Cover with water an inch above the potatoes.
Boil over high heat until the potatoes are knife tender.
While the potatoes are cooking, squeeze the garlic in a pot with a sprinkle of sea salt and mash it into a paste with a fork. Add the milk and mix well.
Put the pot over low heat. Stir to mix well. Warm the milk but don't let it boil or scald.
Drain the potatoes. Peel them when they're cool enough to handle and put them in a bowl. Mash them with a potato masher and leave some small chunks of potato.
Add the milk and garlic mixture, add sea salt and freshly ground pepper to taste and mix everything well.
Put the mashed potatoes in a serving bowl and sprinkle a good, finishing extra virgin olive oil on top.
Serve hot.