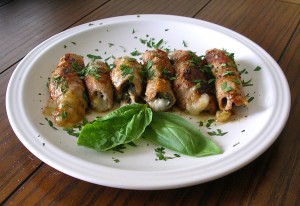 I had a "woo-lee" (desire) for veal scaloppine but I didn't want to spend as much time as it would take to make one of the dishes from the 10—Super Versatile Scallopine video I posted last week.
In an effort to save time, here's a 3-step version that is delicious and you can have it on the table in about 20 minutes tops! Use your favorite scaloppine–veal, chicken, turkey, or pork loin and simply roll it up with a basil leaf, prosciutto and fresh mozzarella (or a sage leaf and Italian fontina) and brown it in a saute pan with some EVOO and butter. I used veal, basil and mozzarella here.
Top the bundles with a pan sauce and you're good to go. The scaloppine is fork tender and the prosciutto and basil are heated through with the mozzarella oozing out onto the plate. I'm serving chard sauteed with EVOO and garlic as the side but you can choose your favorite simple vegetable. I'm watching my intake so no starch this time around.
These little bundles are sometimes called scaloppine "rollatini" (little rolls with a filling) or scaloppine "ripieni" (stuffed). This cooking method is a great one to get under your belt. It's similar to braciole that I make in my Sunday Gravy episode. I'll post some additional recipes using this method –next up: eggplant rollatini.
In case you noticed, there's a story behind the variant spellings of scaloppine (scallopine/scallopini which I use too). Curious? Stay posted.
[amd-recipeseo-recipe:44]