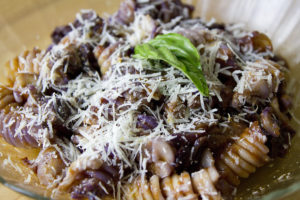 Paprika loves fat. That's what Flora told me the other day.
At da Flora Restaurant (701 Columbus at Filbert), they know how to use the paprika she brings in from a small family producer in Hungary. The chicken or pork paprikash over homemade dumplings is one of my favorite dishes.
Flora is now selling her favorite paprika from the last harvest at her restaurant. We talked about the hot and mild paprika and the special paprika flakes. She thought the mild paprika would be best for me. I want to buy some but I don't have any recipes that call for paprika I confessed. Flora quickly offered up a description of this pasta cream sauce with pancetta and radicchio flavored with the paprika. I paid her for the packet tied with a wide blue ribbon – the mild one.
I devised a recipe from what Flora told me and cooked it up the other day. Flora's fresh paprika is the star of this recipe, smoky and piquant. I like the zesty basic tomato sauce and I like the milder one softened by the cream. Have it your way!
You can serve this sauce with long or short pasta. I like fusilli or rigatoni for the short and linguine or fettucini for the long. Be sure to get a good semolina pasta from Campania or Puglia in Italy . The artisanal pasta extruded through a bronze die is best. The bronze die creates a rough surface on the outside of the pasta that catches the sauce.
You can make the sauce in the time that it takes to cook the pasta. It's hot and spicy but if you want it milder, add the cream to the sauce.
[amd-recipeseo-recipe:26]