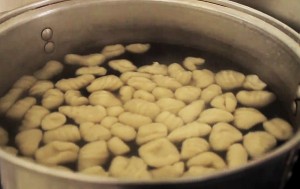 Saturday was a not so good cooking day, but a very good learning day.
I was expecting 3 friends in the morning. They were coming over for a hands-on potato gnocchi demonstration before I went down the hill to lead a North Beach tour in the afternoon.
The potatoes were at a gentle boil just about ready to come out. The doorbell rang.
I let in my guests and by the time I got back to the potatoes their jackets had burst. First no-no when making gnocchi – overcooking the potatoes! If you do they'll absorb water. Not a good thing.
Tour time was looming, so I pressed ahead.
When we peeled the potatoes to put them in the ricer they fell apart. They weren't just overcooked, but way overcooked. Hmm. Against my better judgment I decided to continue. I also didn't have time to let the riced potatoes sit to dry out. Another big mistake!
I adjusted for the over-cooked and wetter potatoes by adding more flour. We were able to form a nice dough. We made the gnocchi and cooked them immediately. They were not my best, but they were good.
We had a big tray of gnocchi left so I froze them. Friends were coming later to eat the gnocchi left over from the demo.
After a great tour my friends and I headed back up the hill to eat at my place.
We cracked open a very nice Foss Marai Prosecco. We feasted on a simple antipasti of prosciutto di Parma, Aurecchio sharp provolone, mozzarella di bufala from Campania, mixed olives and taralli (a small biscuit with anise in the shape of a really big cheerio).
The water was boiling so I took the tray of gnocchi out of the freezer. Although they were well floured some stuck to the tray. I scraped 'em loose with a spatula. Not good. I made sure I took them out of the boiling water as soon as they bobbed to the surface. They hadn't held up well. I could tell right away they were not that firm and that they were going to be gummy.
I was mortified! Good thing I was among friends. We ate most of the gnocchi in the 3 sauces with great Little City roasted sausages. After I apologized again for the not so good gnocchi, one tablemate said to comfort me, "Don't worry about it. Shit happens." We all started to get excited about the wonderful cannoli from Cavalli Caffe we bought for dessert!
So, here's a reminder about the potato gnocchi recipe.
Don't start to make gnocchi unless you have an hour without any interruptions. Once you start you have to be fully engaged and attentive.
Don't overcook the potatoes. Keep checking them and take them out as soon as they are knife tender.
Gently boil the potatoes. Don't let the skins burst. They will if the boil is too vigourous or if you leave them in the boiling water too long.
Spread out the riced potatoes in a single layer on a baking sheet or work surface and give them plenty of extra time to dry out before making the dough. This was the fatal error that doomed the frozen gnocchi! I didn't let the wet potatoes dry out completely so the dough was too wet when the gnocchi went into the freezer. They were a bit gummy when they went in and got more so while they froze.
Adjust the recipe given your circumstances. Here I used more flour in an attempt to compensate for the wetter, overcooked potatoes. Usually this works for gnocchi you'll cook right after they're formed.
Luckily, the gnocchi I cooked for the last episode turned out just right; but you should learn from my mistakes as well as my successes, and so I thought I'd pass this little tale along. Maybe it'll save you some heartache, but if not, don't be discouraged. These things happen.