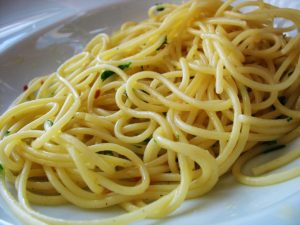 Got a request from a YouTube fan for this recipe. It's super easy and delicious. This sauce pairs best with a good 100% semolina bronze die dried pasta from the Italian regions of Campania or Puglia.
This is a versatile base for steamed clams, mussels or even crab. (I tell you more at the end of the recipe.)
I get cravings for this zesty, satisfying simple pasta. You can make the sauce in less time than it takes to cook the pasta. Easy to do and "sciue sciue" (very fast).
Here's a recipe for 500g or 1 pound of pasta.
(If you're a lover of Italian regional food, be sure to see the details of my upcoming Venetian dinner in San Francisco.)
[amd-recipeseo-recipe:17]
Photo by der_dennis