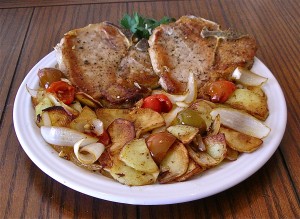 Tired at the end of a long day? You can make this full-flavored dish in one pan in less than 30 minutes. Easy to make and an easy clean-up too. You can even make it with cut-up chicken and it's just as delicious.
Imagine we're in southern Italia.  The golden pork chops, browned potatoes and carmelized onions are gently infused with the fragrance and piquancy of the sweet vinegar cherry peppers. No heat in this dish–just a plate full of flavor.
The key to this recipe is cooking it in stages and then assembling all the ingredients at the end to finish the dish. The pork chops are browned in a cast iron or heavy saute pan and when golden brown out they come to rest. In go the potatoes and then the onions to cook in a handy steam-saute method that reduces the cooking time. (The steam/saute method works well with a variety of vegetables.) Add the garlic and cherry peppers to finish the saute. Back in go the chops covered with the vegetables so while they heat briefly they will pick up the flavor of the cherry peppers. Pour any remaining pan sauce over the chops and vegetables and you're ready to eat. How quick and easy is this?
The chops have a nice crust but retain moisture. The potatoes are nicely browned and full of flavor. I like to get a piece of cherry pepper with each bite. Heaven!
[amd-recipeseo-recipe:47]