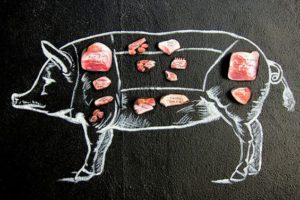 We're doing a special Christmas episode over here in Gianni-land ™ and we want you to be part of it!
Remember my classic recipe for porchetta? I made it the way I ate it growing up: Italian-American style! But I got flamed by a bunch of Italian Italians saying it wasn't the real thing because I didn't use a whole pig and the classic herb mix. So I'm going to channel some of the old country and revisit the recipe by cooking up a whole deboned pig, just like they do in Italy.
Yup, I'm gonna source a local, less than one-year old pig, debone it, stuff it with wild fennel, rosemary and garlic, and spit-roast it slowly over an open flame until it's juicy delicious inside and covered with shatteringly crisp skin on the outside.
Actually, my choice of aromatic herbs is still up in the air. I may get in trouble again with those Italians. Right now I'm leaning towards combining the Roman style where rosemary predominates and the Umbrian style that uses fennel as the main aromatic. What do you think I should do?
And since we'll have a lot of food, I'm inviting you to try some!
We will be shooting the episode on Sunday, December 7, 2014 at a private residence in San Francisco. We will provide the food, the drinks and the spectacle. You just have to provide the appetite! And it's totally free! But space is extremely limited, so send in your request now by filling out the form below.
This will be an incredible event and I hope you can join me. I can't wait!