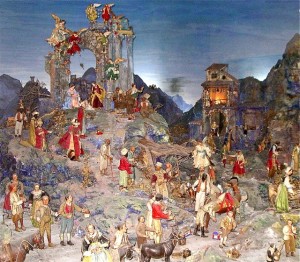 I call it the "Holy Mile", one of my favorite areas in the old part of Napoli. Baroque churches abound and a beautiful garden loaded with frescoes and majolica ceramic tiles is hidden behind the Santa Chiara Church and Monastery.
Via San Gregorio Armeno, a pedestrian-only street in the heart of this part of Naples, is known locally as Christmas Alley. It houses dozens of workshops that create everything you need for a precepe, everything you need to set up your own nativity scene.
They've been making the sculpted, hand-painted terra cotta figures and creche sets there since the reign of Charles II in the 1700s. Dozens of diminutive figures–angels, the Baby Jesus, Mary and Joseph, the Wise Men, villagers, camels, donkeys, sheep, even Pucinella, the impish commedia dell'arte character loved by Neapolitans, are all in the crowded workshops.
My favorite craftsman on Christmas Alley is maestro Ugo Esposito. I have several of his pieces. He carries on a proud tradition in his studio and showroom. The Maestro loves to talk about his craft and the long tradition of Neapolitan manger scenes and characters, both sacred and profane.
Nativity scenes abound all over Napoli, in churches and other public places, and in homes throughout the city. You could spend a whole day finding all the gorgeous public displays.
If you're in New York City don't miss the Neapolitan Baroque Creche surrounding the Christmas Tree at the Metropolitan Museum. It appears every holiday season and includes beautiful figures and creche pieces from the 1800s. I visit every time I'm back east for Christmas.
Got your nativity set up under your Christmas tree? That was my job growing up in Jersey and I still love them.
Happy Holidays! Buon Natale!