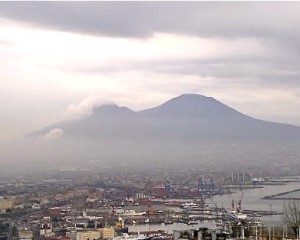 Naples as you may have realized by now is one of my favorite cities in all of Italia.
My Italian roots are in Campania and Napoli is the region's capital. I've felt as if I belonged there since I first visited. I love the food, culture and vivacious spirit of the people.
I was with my sister as we strolled the markets in the Spanish Quarter our first day together in Napoli. All of a sudden she looked at me kinda startled. "They all look like us!", she exclaimed. Maybe an overstatement, but it was a recognition that we had a DNA connection to this chaotic, wonderful city and its people. I think this is why I've been so passionate about saving the North Beach Song of Pulcinella mural that reflects the Bella Napoli that I love.
Here's a Napoli post from Italian Notebook— great pix of the city, the Bay of Naples, the active volcano Vesuvio, all from the cliffs of Vomero high above the city. Take a look at Spaccanapoli, a broad avenue from the Greco era when the city was known as Neapolis. Spaccanapoli literally means "Naples Splitter".
There's a cool funicular that runs from the city center and climbs all the way up to Vomero and the St. Elmo Castle.
It's incredible to me that more than 3 million people live in the shadow of Vesuvio. It has erupted more than 3 dozen times since it buried Pompeii and Herculaneum in 79 A.D. Neapolitans are a tough people always living it seems just on this side of disaster.
But they have their patron San Gennaro, martyred in the 4th century, to protect them. His dried blood is kept in a vial and brought to the Duomo on his feast day, September 19. Thousands of people crowd the Duomo with even more outside. They pray, they chant and they wait for the Cardinal to wave a white handkerchief up at the altar, a sign that the dried blood has liquified. I saw the miracle for myself when I was last there.
The tradition holds that if the blood doesn't liquify great tragedy will strike. That happened twice in the recent past. Vesuvio erupted in 1944 and in 1980 a massive earthquake hit Campania killing 2,000. San Gennaro's blood didn't liquify in both those years.