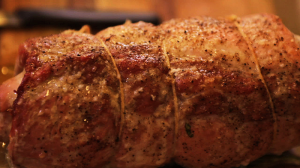 Here's a 4-course Easter dinner suggestion. I even threw in Italian wine pairings.
Follow my easy video demonstrations and text recipes (a fan suggests I call these "videocipes" or "recideos") and make dinner for yourself. Bake the 2 traditional Easter Pies the day before and let them sit overnight. They'll taste better after all the flavors meld. Make the soup the day before. It tastes best the next day too.
That's 3 courses ready to go. You can make the main course–roasted herb-infused pork with 2 delicious sides–on Easter in just a couple of hours including cooking time.
Don't forget to pick up your Columba Pasquale the traditional Easter bread in the shape of a dove. They're at every North Beach caffe, deli and bakery. Hopefully you'll find one near you. Buona Pasqua! Happy Easter!
Antipasto
A slice of Pizza Rustica the savory cheese, salumi and ricotta deep-dish pie. A dry Prosecco pairs well.
Primo Piatto
A nice bowl of Italian Wedding Soup. Finish up the Prosecco.
Secondo Piatto
Pochetta, Sweet-Sour Onions, Truffle Roasted Potatoes go well with a hearty Aglianico, Taurasi or Lacryma Christi (Tear of Christ) all from near my mom's village in Campania.
Dolce
A sweet slice of the traditional deep-dish ricotta pie Pastiera Napoletana.
Espresso