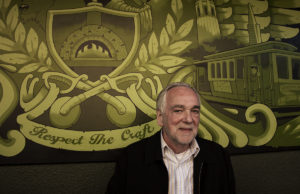 In the opening of my cooking show, I refer to "what's left of the Italian American neighborhood in San Francisco." There is a lot left. In fact, it's growing and flourishing in many ways.
But it's also in danger of being lost forever. Former centers of Italian culture in places like New York City and Chicago stand as harbingers of what can happen when a strong, living connection to the Old Country is broken. Either those centers wither altogether or become "Disneyfied" caricatures of what they once were. In New York, for example, the 2010 U.S. Census was unable to find a single resident born in Italy.
I'm determined not to let that happen in San Francisco!
But I can't do it alone. That's why I started this website, and the cooking show. It's why I lead walking tours, speak to neighborhood groups, and try as best as I can to nurture the efforts of Italian immigrants coming to North Beach who are bringing authentic Italian culture with them.
San Francisco is a food town, Italian food is a world cuisine, and Italians have prominent places in the city's history. Even if you're not a San Franciscan, even if you're not Italian, the cause of preserving and nurturing authentic Italian culture in North Beach is vital to anyone who's ever been to the City by the Bay, or enjoyed an Italian meal.
Please help in this effort by joining in the conversation, whether it's here on the blog, or on Facebook or YouTube or Twitter.