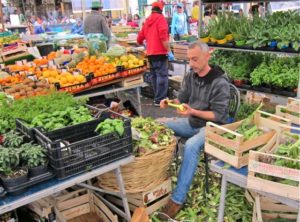 Campo di Fiori, the farmer's market in the historical center of Rome was ablaze in the morning sunshine.
The stalls were overflowing with spring bounty. Peas, artichokes, fava beans, chicory and other leafy treats, even early tomatoes, were everywhere.
I was scouting the market as I waited for Luca, my producer to show up with his video crew so we could plan tomorrow's shoot. I wanted to see what I would cook in my apartment kitchen.
I came across Alessandro cleaning artichokes. When I took his picture he looked up and said I had to either give him one euro or a kiss. We settled on a Roman welcome embrace.
I can't wait to share my market and cooking experience with you. New video episodes from North Beach and Roma are coming soon.
Buon appetito!