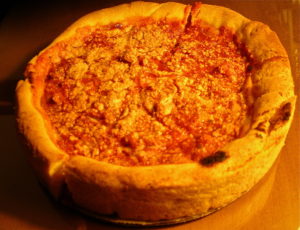 Tony Gemignani's Capos in the former Pucinella Pizzeria space on North Beach's Vallejo Street is taking shape. The brick facade on the front of the building is in place. Soon a big black awning will hang out over the sidewalk. A beautiful custom-built wood Art Deco bar is in place on the left just inside the front door and red leather banquettes sensually line the opposite wall in the dining area. This is going to be a hot eating spot.
A while ago I noticed a wood-burning beehive pizza oven in the open kitchen. Since Capos will offer Chicago deep dish and stuffed pizza this traditional Neapolitan pizza oven puzzled me. One of the pizza makers told me that pasta dishes will be baked and steaks roasted on a rack in the beehive to impart a smoky flavor. Can't wait to taste these delights.
I'm off to Chicago soon and my first stop will be at Gino's East for a deep dish pizza. I know we'll wait at least 40 minutes for the pie to bake. They won't take that long once Capos opens. I'm told Tony and his pizza makers have come up with a way to get their pizza out of the oven in about 20 minutes. I hope so. This place is going to be mobbed and I hope the tables turn quickly. I only have Chicago deep dish pizza a couple of times a year when I end up in the Windy City. Now I'll be able to eat it any time I want right here in NoBe. My guess is that Capos will open by the end of the month.
Thank God for Capos. It's the last North Beach business on this critical block of Vallejo. The big Piazza Market space near Columbus is still for lease. Victoria Pastry on the Stockton corner soon will move to Filbert near Washington Square. So the Vallejo Street bookend spots are still in play. Will the new tenants maintain this as a North Beach block or complete its attachment to Chinatown? I'll keep you posted.