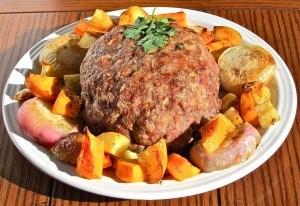 So says The Chronicle's Paolo Lucchesi, meatloaf along with pickles will be hot in 2012. Maybe I'm ahead of the curve on the pickle front. Try my pickled vinegar peppers and my giardiniera (pickled vegetables) that I posted late last year.
My Mom's meatloaf or polpettone (big meatball in Italian) is still a favorite. This is an "all in one dish" meal with about 15 minutes of prep time and 60 minutes in the oven. The meatloaf recipe is a variation of my meatball recipe so you can watch the Sunday Gravy episode (about 8.5 minutes into the video) to get a sense of how I put the meatloaf mixture together. Just form the meatloaf and brush the top of the meatloaf with some EVOO to help form a nice crust on the top.
Later on we modified my Mom's meatloaf. We topped it with tomato sauce and laid bacon on top. Bacon makes everything better, right? I stayed pure with this one but I tell you how to make the meatloaf with sauce and bacon in the recipe.
My Mom surrounded her meatloaf with potato, onion, celery and carrot. I love that vegetable combination but I changed it up here. I've roasted flat cippolini onions, potatoes and butternut squash with this polpettone. You can add any vegetables you like to the roasting pan. Have it your way. Just make sure you have some meatloaf and vegetables left over. It's great heated up the next day and it makes a great sandwich too. Don't tell anybody but sometimes I like a little ketchup with this dish.
[amd-recipeseo-recipe:84]