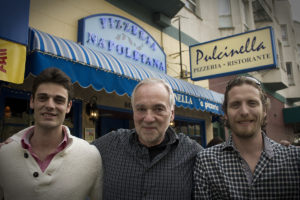 North Beach has been a bit down on its heels since the start of the Great Recession. The empty storefronts reminded us every day. But now we're experiencing a renaissance. New restaurants and other businesses are opening up on every block.  All of a sudden everyone wants to be in North Beach. The Village is so popular you can hardly walk on the sidewalks anymore.
In my 20 years living in the Village I've seen places open and I've seen them close. Some I miss, some I don't.  A front page article in last Sunday's Chron details the recent downside and the current boom.
Here are my own North Beach insider tips on what not to miss:
The Calabrian powerhouse, Vicoletto, on Green
Pulcinella, the Neapolitan pizzeria and ristorante on Vallejo
Santo's new Cavalli Cafe on Stockton, serving great espresso, cannoli, tiramisu and other homemade Italian sweets
The Gambaccini family's transformation of the old Danila Bakery on Green into the hip northern Tuscan pizzeria and ristorante, Baonecci
And a few more…
After losing 5 of the 6 old Italian delis, a new salumeria will soon open on Vallejo to give Molinari's some competition. Can't wait.
Check out the new public parklets in front of Caffe Roma and Caffe Greco (both on Columbus), and don't miss the new one just installed today on Stockton near Tony's Pizzeria Napoletana.
So what about all these new restaurants opening up? Most aren't Italian, and that's OK. For years I've enjoyed the smart pan-Asian cooking at The House, and the souffles at Cafe Jacqueline (both on Grant).  I like a little culinary diversity in the Village. Mexican, French, Pakistani, American comfort food joints, come on in. Our authentic Italian food base can take it! Eat what you want, just make sure you eat in North Beach!