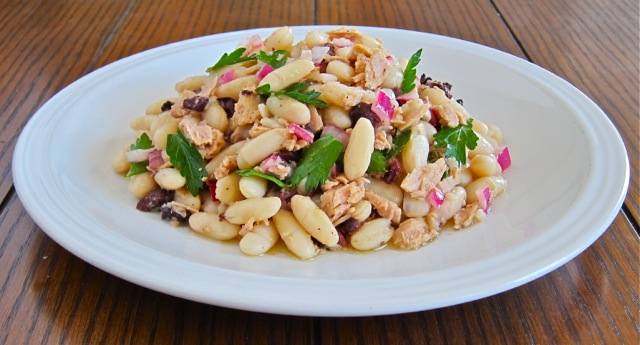 I love cannellini beans and Sicilian canned tuna. Putting these 2 pantry staples together in this salad makes me very happy.
You can use canned beans but since there are only 2 main ingredients in the salad I like to use dry beans. They aren't mushy like the ones in the can and don't break apart as you mix the salad together.
Soak the beans overnight. But, if you're like me and didn't plan ahead use my speedy method to prepare the dried beans for the salad in about 2 minutes.
The creamy beans infused with celery, onion and bay leaf are the perfect base for the briny tuna, sweet red onion and tangy olives. Every bite is a delight.
Serve the white bean and tuna salad as part of your antipasti platter or on a bed of lettuce as a light meal with a hunk of crusty bread.
Buon appetito!

White Bean & Tuna Salad
Combine 2 of my favorite ingredients, cannellini beans and Sicilian canned tuna, to create a full-flavored salad.
Ingredients
1 cup dried cannellini beans
1 celery stalk with top leaves, cut in large pieces
1 small onion, peeled and cut in half
1 bay leaf
⅓ cup extra virgin olive oil
1 7-ounce can Sicilian tuna packed in olive oil
1 small red onion, minced
⅓ cup Gaeta olives
2 tablespoons red wine vinegar
sea salt and freshly ground black pepper
½ cup Italian flat parsley, chopped
Instructions
Soak the beans in cold water to cover overnight.
Drain and rinse the beans
(If you forgot to soak the beans overnight put the beans in a pot and cover with water at least 2 inches above the beans. Bring the pot to a boil and boil for 2 minutes. Take the pot off the heat, cover and let the beans soak for 1 hour. Drain and rinse and continue with the recipe. If you're really desperate use canned beans. Be sure to rinse them well.)
Put the soaked beans in a large pot and cover with cold water by 2 inches and bring the pot to a boil.
Add the celery, onion and bay leaf, reduce the heat and simmer for 45 minutes or longer until the beans are tender.
While the beans are cooking, put the red onion in a large bowl and cover with the vinegar. Let the onions sit in the vinegar for 5 minutes.
Add the olives to the bowl.
When the beans are cooked add them to the bowl.
Add the olive oil and parsley to bowl. Gently mix the beans to coat the beans with the olive oil.
Add sea salt and freshly ground black pepper to taste and mix the beans gently.
Break the tuna into small pieces and add the tuna to the bowl. Mix the beans gently to distribute the tuna.
Let the salad sit for about an hour before serving.