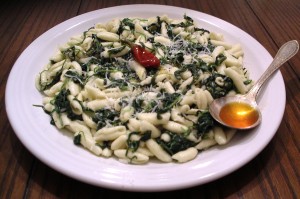 My mother made fresh cavatelli often, "gavadeal" in the argot of my southern Italian Jersey neighborhood. I'm making it with dried cavatelli from a small producer in Naples. Just 2 ingredients, durum wheat semolina flour and water. The pasta is extruded through a bronze die and dried in the slow, traditional way. The bronze die gives it "la lingua di gatto", the rough feel of a cat's tongue that helps the sauce adhere to the pasta. The pasta is the star of this dish so use the best from Italia.
When I lived in Rhode Island the same pasta was called cavatieddi or as my RI Italian-American friends say "cavati". I made the pasta in anticipation of friends coming to San Francisco this weekend. Carol is bringing a "machine" from Rhode Island to make fresh cavati. Can't wait to see this contraption.
Anyway, here's the recipe for this really tasty, healthy and simple pasta from the southern Italia region of Apuglia. They love pasta with wild, bitter greens. I didn't have time to forage so I used baby arugula. No garlic here! The full flavor of the al dente cavatelli  balances the peppery arugula and the grated pecorino ties it all together. A simple, pristine and full-flavored pasta ready to eat in the time it takes to boil water and cook the pasta! Olio sante (holy oil) makes this dish even better. Add a drop or two to your plate of pasta and a tear or two will follow. No hot oil no tears. I like the tears but you decide. Buon appetito!
[amd-recipeseo-recipe:61]
Note–If you can't find hot peppers packed in olive oil you can make your own. Put a couple of small red hot peppers in a jar and cover with a cup of EVOO. Let steep for about a week. Add a few drops of the golden red oil to any dish to bring a tear or two to your eye as you eat.