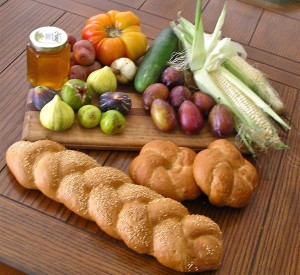 The farmer's market is still awash with the bounty of late summer and though it was crowded with neighbors and friends, I was still disappointed.
The San Marzano tomatoes weren't ready for harvest, "next week, we hope"  –but I've heard that before. Please God, just a hot day or two would do it.
But all was not lost. See that big golden red heirloom in the picture? It weighed in at about 1 1/2 pounds–turned out to be the best I've had this slightly disappointing heirloom tomato season–meaty with rich sweet flavor.
So what else is in the picture? The jar holds Rusty's Farm Daly City Wildflower Honey. Yeah Daly City–don't laugh, it's delicious. The purple fingerling potatoes are for a salad and the heirloom, cuke and onion for another. Sweet white corn may end up on the Labor Day table. I'll bake a crostata (open tart) with the yellow-purple Tulare Giant plums. The white Calimyrna, striped Panache Tiger and Black Mission figs were picked yesterday and are at their peak. The sesame braid and the rolls are from the Italian-French Bakery (Grant at Union).
You gotta grill on Labor Day right? Here's the single plate menu.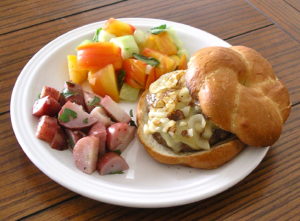 My burger mash-up inspired by Venice, Jersey diners and meatballs
Heirloom tomato cucumber salad
Italian purple potato salad
Venice and Jersey burger memories inspired me to grill my special burger and share this simple recipe for you to enjoy. You'll never eat a dry, tough, tasteless burger again.
It was late as we made our way back to our Venice apartment. We were tired. There it was–a McDonald's. No way I said but the crew was determined. I got the Il Mac on the controversial new McItaly menu. Leave it to the Italians to add something really good to the standard McDonald choices. Il Mac was a special grind of locally-sourced meat grilled topped with fontina cheese served on a specially baked local ciabatta roll with lettuce and tomato. It was delicious.
At diners in Jersey, such as Buff's, White Castle, or the Short Stop you just tell them what you want—no special instructions. Cheeseburger? The counter cook with the dirty waist apron took a ball of ground beef and threw it on top of grilling onions. With a rap of his spatula he smashed the meat into the onions, some now in the burger some still frying on the grill. The burger was cooked through with a crispy crust covered by melted cheese and served on a poppyseed kaiser roll. I always had 2.
My burger recipe is inspired by Il Mac, Jersey diner burgers and my meatballs and has 2 special ingredients to keep the burgers juicy, tender and flavorful. I top the burgers with Italian fontina sprinkle on sauteed cipollini onions and serve the big juicy burger on a toasted soft rosette roll.
The accompanying tomato cucumber salad with diced onion and fresh basil is sprinkled with sea salt and EVOO. It marinates for a while to form its own dressing. The boiled purple potatoes just get some EVOO, parsley, shallot bloomed in a little red wine vinegar and sea salt and freshly ground black pepper to taste.
[amd-recipeseo-recipe:46]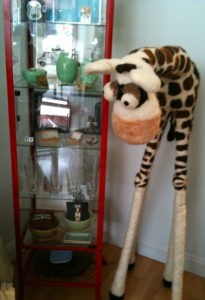 Retail Update–Upper Grant is exploding with new shops. I finally got a chance to visit Park & Pond and Therapy (Grant between Green/Union). Park & Pond is loaded with "Goods from Near". A few weeks ago Bay Area sisters Jessica and Abbey Herman realized their dream to open a business of their own. They decided upon this unique shop when they realized a coffeehouse was not for them. Lucky for us. The shop is full of artisanal goods–jewelry, stationary, ceramics, soaps– all produced within 100 miles of North Beach. I was in the back of the shop with my new friend Gigi Giraffe when I espied the NT salted chocolate dipped bacon caramels. We ate them immediately. These Nosh This chocolates from Kai Kronfield are delicious.  We left with some great Olivina soap and my personal treasure–NT's Bacon Crack. I'll be back here soon.
Therapy is just across the street. It features an interesting mix of goods from clothes to toys. It's a fun shop. I was surprised to learn that Therapy is a small chain. How did it open in North Beach where chain stores with more than 11 outposts have been banned since 2005? The controversial ordinance is designed to maintain the unique character of our Village by keeping out businesses that you can find anywhere. Therapy has 8 locations scattered around the Bay Area. Welcome to North Beach Therapy! Happy to have you in the Village.
Coming up this week–my plum crostata and all-in-one-pan pork chops with crispy potatoes and vinegar peppers.
Belated Happy Labor Day to all–especially in this difficult and tumultuous year. Good food with family and friends will help you get through it.