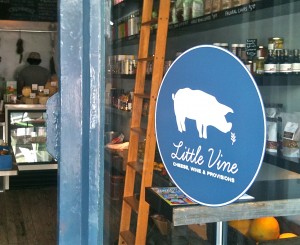 It's an exciting time to be in North Beach–lots of new places opening in the Village. The Bottle Cap reviews are starting to pour in including Bauer's in the Sunday Chron. The Park Tavern is set to open soon. And Park and Pond also has open doors on Grant (between Green/Union), a small boite celebrating the crafts of local artisans–more about this and a couple of other new spots in next week's post.
The paper is off the windows on upper Grant! The owners, husband & wife Melissa Gugni and Jay Esopenko who live in the Village opened Little Vine specialty foods. Little Vine (between Union/Filbert) is a cute  spot and a great addition to the Village. The place is already busy with a steady stream of Villagers stopping in to say hello and take a peak at the seasonal produce, meats and other interesting food products, grabbing a Bicycle coffee and Starter Bakery pastry, or buying a sandwich on Artisan bread. They have a great assortment of California and Italian cheeses and salumi by Fra' Mani and Colorado's Il Mondo Vecchio made as the name suggests in the Old World style–no added nitrites or nitrates. The gnarly salumi reminded me of those I'd see in the cellars in my neighborhood when I was a kid in Jersey.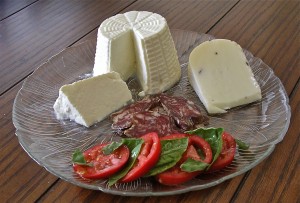 I had to get the whole Jersey cow milk ricotta in the basket from Bellweather Farms across the Golden Gate Bridge in Petaluma. Creamy, just the right fat/acid balance and dense enough from its time in the basket to slice. The Tartufo–a young Pecorino with black truffle is superb. There's just enough age in the creamy sheep milk's cheese to stand up to the earthy black truffle. The Mondo Vecchio Paradiso salami with porcini is as good as it gets–all natural and made in the traditional way.
I figured I could eat a little something when I got back up the hill. Here's my nibble plate filled with my Little Vine score–the big ricotta basket cheese, pecorino tartufo, porcini pork salami, dry farmed tomatoes with basil, salt and EVOO. A perfect summer lunch that ended with a juicy ripe peach. Little Vine's ABC license should clear soon. Can't wait to see their selection of wines.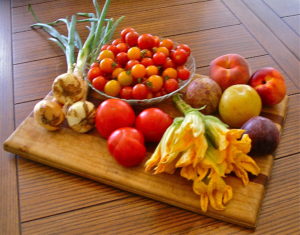 Cherry-picked the North Beach Sunday Farmer's Market (Columbus/Mason) on Sunday–just needed a few things. Here's my loot. The ruby red cherry tomatoes are sweet but the golden ones are even sweeter. Cherry tomatoes and the young onion were to top a focaccia that I brought as a gift to a friend's birthday party later that afternoon.
Look forward to that focaccia recipe this Friday. And coming up on Wednesday is a video episode of one of my favorite Calabrian pasta sauces. Don't miss!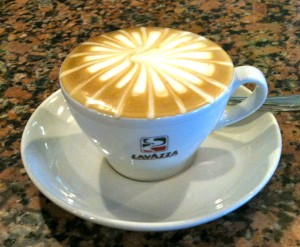 Just as an end note–they're getting fancy at the Pooch (Caffe Puccini on Columbus near Vallejo). This macchiato is as good to look at as it is to drink!