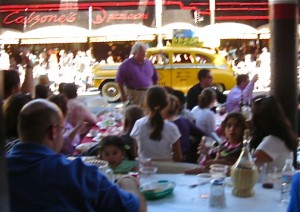 North Beach's biggest event of the year is this Sunday–the 143rd Annual Italian Heritage Parade–the oldest in America. You gotta be here–it's a great day in the Village.
Floats, politicians, bands, Queen Isabella and her Court, Cristoforo Columbo himself–the Parade has it all and it only takes about an hour to pass by. And we're celebrating the 150th anniversary of the unification of Italia too!
All of the Village restaurants and caffes along Columbus and Stockton set up tables in the street. Everyone has their favorite restaurant. I've been going to the same place to watch the Parade and eat a leisurely lunch with friends for over 20 years.
It's hard to get a prized table on the street—there are only 11 ten-tops where I go and the same families have ruled over them for decades. Each table always seems to have a capo the boss who tells everyone where to sit, what to eat, when to order. It ain't an easy job. You can see one above surveying his domain.
I sat at a street table only once—and that was 10 years ago when some people couldn't make it and we grabbed the 4 seats. Can't prove it but I think the Parade curbside tables were the inspiration for the curbside parklets sprouting up all around the Village.
Anyway, I have the best table—right inside the open sliding windows on Columbus. We're about a foot above the street—a great spot to watch the Parade and the passing sidewalk crowd.
No special orders. Antipasti platter, lasagna al forno, chicken and vegetables roasted with rosemary to a golden brown, focaccia and a fantastic Chianti–a simple meal from Lucca and every year it's my Parade Sunday lunch.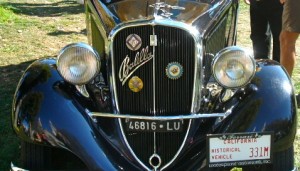 Don't miss the antique car and Ferrari show in Washington Square. Wander down after the Parade. It's a great spot to watch the Blue Angels soaring overhead–part of the Fleet Week celebration down on Fisherman's Wharf.
I like to go down early Sunday morning to grab a cappuccino and catch a glimpse of the artists finishing up their street painting. Gotta look around for where they'll be–one year on Stockton near the Square–the next on Green/Columbus. It's worth the search–there's always some great work to discover.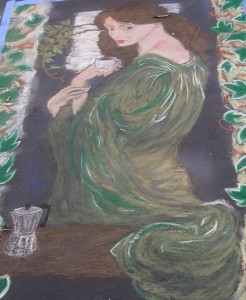 Don't miss all the fun–hope to see you in the Village Sunday! I'm sure you'll find a good spot to watch the Parade and eat some great food too.
A presto.