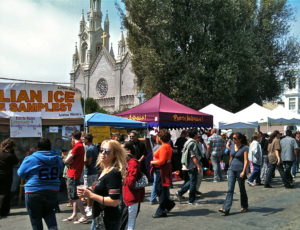 Saturday's annual SF Italian Athletic Club's Festa Coloniale Italiana on North Beach's Washington Square was quite an event–food stalls, wine tastings, live music, even a fountain temporarily installed in the Club's ballroom.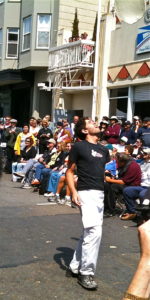 Guys from Tony's Pizza from down the street pleased the crowd with a dough throwing demonstration.
All that pizza tossing inspired me to make a couple when I got back up the hill. They're both really easy to make especially if you don't have to make your own dough. Dough from A.G. Ferrari, Whole Foods or Trader Joe's will always work in a pinch. If you have an hour or so, try my pizza dough recipe–it can't be beat.
Stretch the dough to your favorite thickness. Top the dough with a thin drizzle of EVOO starting in the center spiraling to the edge. Then scatter some thinly sliced ripe tomatoes and give them a sprinkle of sea salt, fresh basil, salami and smoked mozzarella. Sprinkle some torn basil leaves on top as soon as the pizza comes out of the oven. The other pizza has squash blossoms  (fiori di zucca), ricotta (fresh mozzarella works well too), a sprinkle of sea salt and a grind of black pepper on top of the EVOO drizzle. Heat your oven to its highest setting and bake on a pizza stone or baking sheet for about 7 minutes. Check out my video if you want to see me making pizza from scratch.The dough takes 90 minutes–not too much work–most of the time is just waiting for the dough to rise.
The heat of the Calabrian salami and the mild smokiness of the mozzarella blends well with the sweetness of the tomato and basil. You won't believe the concentrated zucchini flavor that the blossoms infuse into the cheese–a simple 2-note pie.
I'm hooked on a few local cheesemakers and love that I can get locally made cheeses for my Italian dishes.
The ricotta for the squash blossom pizza came from Bellweather Farms, a family farm in Sonoma. The ricotta is packed in a basket for wonderful texture. It's one of the best I've ever had–could be that this ricotta is made with Jersey cow milk! I love their sheep's milk pepato and their Crescenza too.
The naturally smoked mozzarella from Belfiore Cheese Company in Berkeley has a light dusting of alder, apple and cherry wood smoke that gives it a light tan color–not like the liquid smoke bronzed ones you see in the supermarket. The taste of the mozzarella shines through. I love Belfiore's mozzarella and fior di latte a fresh cow's milk mozzarella. The ricotta is perfect for stuffing ravioli and lasagna.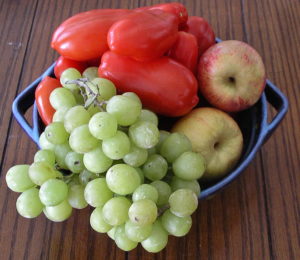 Finally got my first harvest of San Marzano tomatoes at the North Beach Sunday Farmer's Market–a sign of the end of summer. The first crop was OK but not at peak–we'll see how they are next week… I think this year's crop will be less than ideal–didn't get the hot sunny days they needed this summer. Some of my farmer friends said they weren't happy with the San Marzanos they canned this year.
So, is it Fall yet?
The Festa Italiana in the Village on Saturday was the first sign for me to move on. It kicks off North Beach's premier Fall festival season culminating with the Sunday Italian Heritage Parade on Columbus Day weekend. I have a table on the Parade route–can't wait.
See what else is in the bowl with the San Marzanos? Yup, couldn't do it last week but I bought some of the new crop of apples–another sign of Fall.
I don't care what the calendar says–I'm declaring Summer 2011 over. It's just clean-up harvests now. Get ready for some of these sweet and juicy fall grapes, apples and pears and lots of leafy greens, brocolli, cauliflower and root vegetables.
Figs will be around to enjoy for a little longer and the last of the summer strawberries are fantastic. They'll be gone soon too. I'll share a recipe to keep the strawberries with you all winter in my next post.