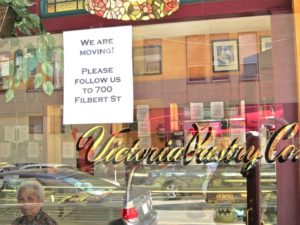 North Beach's Victoria Pastry on the corner of Stockton & Vallejo makes some of my favorite cakes and pastries. They've only been doing it since 1914!
Victoria's St. Honore rum-soaked sponge cake with vanilla pastry cream and their domed chocholate Fedora cake are two of the best.
For the last 6 months rumors that Victoria is closing, Victoria is moving, Victoria is renewing its lease swirled around the neighborhood. Now we know for sure.
I walked by the other day and the shop was festooned with these flyers announcing the move to the Filbert and Powell on the other side of Washington Square Park. The move is scheduled for July but it doesn't look to me like the new Filbert Street space will be ready in time.
Word is that another bakery will take Victoria's place. I hope it happens. North Beach needs a good bread bakery and a solid North Beach business to anchor the Vallejo Street corner.
Last night I walked past Steps of Rome on Columbus as I have since it opened 22 years ago. To my horror the door was locked, the bar stripped and the tables and chairs askew. Steps of Rome has closed.
No word yet on what will replace it and its trattoria a few doors down that closed months ago. I loved Steps' leg of veal with roasted potatoes plate. Luckily we can still get that at L'Osteria del Forno down the street on Columbus between Union and Green.