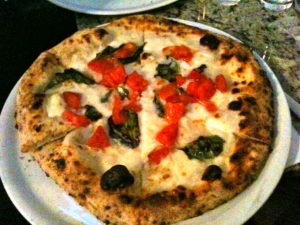 I've been jonesing for Anthony Mangieri's pizza for years. I was going to check it out when he was in New York's East Village. Never did. 2 hours just to get in. No way, it's just pizza. I got so excited when Anthony moved to San Francisco. Finally I can just walk in. Yeah, right. The lines formed again. Ain't waiting 2 hours to get in. It's just pizza.
I was invited to a meeting of a group that promotes authentic Italian food culture, L'Accademia Culinaria. It was a private event at Anthony's Una Pizza Napoletana in SOMA the other night. Finally I could just walk in.
Anthony Mangieri is a master of simplicity. His dough is just flour and water that absorbs yeast from the air. He makes 5 variations of basically the same pie. I ate them all.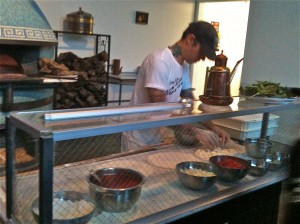 All of his ingredients are in front of him. San Marzano tomatoes, mozzarella di bufala, smoked provola, fresh cherry tomatoes, garlic, oregano, sea salt, basil and extra virgin olive oil in the can on the top shelf. Oh one more, the arugula is near the plates on the side of the oven. That's it.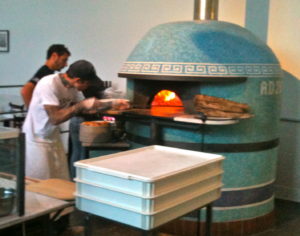 The pizza is in and out in about a minute. Anthony slides it in, gives it a turn, throws a paddle-full of wood chips on the burning logs so the blast of heat finishes charring the pie, and then slides it onto the plate.
While we were talking about our families that live near one another in Jersey I mentioned to Anthony that I didn't get the pizza bianca, the one with the smoked provola. As I was getting ready to leave he called out to me. "Hey you can't go yet." He was putting one in the oven for me. My prayer to his name sake San Antonio di Padua the patron saint of fire whose image hangs on the wall above the oven worked!
Anthony makes the best damn pizza I ever ate anywhere, including Napoli. Bravo maestro! Mille grazie.
BTW, Anthony says success is killing his business the lines aren't that bad. Some nights you only have to wait 15 minutes. You're gonna see me in that line real soon!