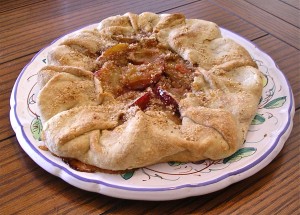 We're nearing the end of summer and the plums have been superb. I wanted a final plum celebration to tide me over until next season.
I was on a mission–looking for those tiny Italian prune plums at the Sunday North Beach Farmer's Market. As we tasted several varieties of purple plums at Inzana Ranch & Produce (Hughson, CA) we heard a story about the farmer's visit to his ancestral village near Messina Sicily. For days they were constantly surrounded by family and villagers in awe of the special guests from America. With that Sicilian embrace how could you not get in touch with a part of your cultural DNA.
The prune plums weren't quite at their peak yet. I needed something more mature for the rustic crostata I had in mind. The winner of our taste test were the relatively new varietal Tulare Giants–sweet as sugar and a beautiful purple-yellow in color. Not too juicy so they're great for baking.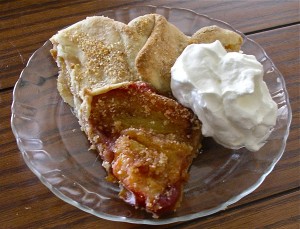 A little dollop of whipped cream is all you need to garnish and finish the crostata. The crust is tender and lends a crumbly buttery finish to each bite. The plums caramelize on top in the open center and remain soft and sweet beneath the crust.
But I'll have to make this again. The small Italian prune plums are my favorite and they may just be sweeter and riper next Sunday at the North Beach Farmer's Market. You can go to market at noon or later and still have your pick of all the bounty.
Stop by Sunday–say hello to friends and neighbors–get some great local organic produce. Maybe you'll hear a cello or maybe a guitar and song. You'll be inspired for sure….
So here's the crostata recipe many of you have been asking for since my Il Pranzo post last summer. Can't believe it's that time of the year again!
[amd-recipeseo-recipe:48]