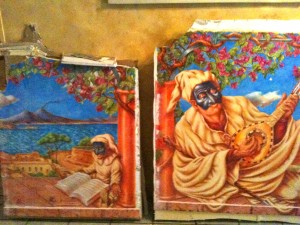 What happened to New York's Little Italy? Recently, the NY Times reported that the 2010 US Census was unable to find a single resident there that was born in Italy. While there are still some big, theme restaurants and shops, the soul of Little Italy has been lost.
I'm determined to not let this happen to North Beach. For the last year, I've been on a crusade to help preserve San Francisco's heritage as a center of authentic Italian culture.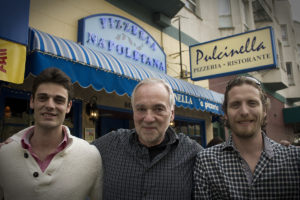 For example, we just lost a gem in Pulcinella, the Neapolitan pizza cafe that recently closed on Vallejo Street. Inside was a wall-sized painting of restaurant's namesake reclining under a tree playing a lyre with ancient Naples sprawling behind him. The landlord had removed the entire wall and was getting ready to dump it. I wasn't about to let that fantastic painting disappear as well!
It was in pieces – large, heavy pieces – but I and some friends moved it to a nearby gallery, where the artist, Vranas, set about restoring it. It will be shown in the gallery for a period of time before finding a permanent home somewhere in North Beach.
Great tasting food is my big passion, but there is a deeper lesson behind my efforts: Without vigilance and participation, the survival of authentic neighborhood cultures is not guaranteed. North Beach already suffers some symptoms that could become dangerous to the proud Italian heritage of one of the great food cities on the planet. High-impact tourism and the strip clubs on Broadway Street hurt the neighborhood's reputation among locals, sometimes unfairly. It's up to those who understand the tragedy of losing a culture, to advocate for it.
That's why I emphasize a lifestyle that reaches beyond San Francisco – getting to know local vendors who supply the best Italian products, the freshest seasonal produce, and top quality meats and seafood. Here in North Beach, it means challenging preconceptions about the neighborhood that brought us the Beat poets, great jazz, and stunning visual beauty – and re-discovering the authentic, world-class Italian cuisine still created here.
Follow me here, or on Facebook, Twitter, and YouTube to learn all about my perspective on the vibrancy and delicacy of San Francisco's little Italian village – and how our fate is connected to the fates of Italian-American neighborhoods all over the country.