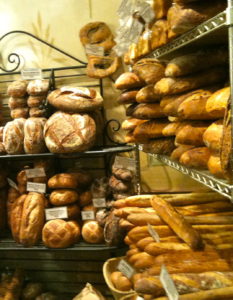 Don't miss our private authentic home-cooked dinner at Baonecci on Sunday and help resolve this bread debate.
Every time I'm in Tuscany somebody complains about Tuscan bread. It's made without salt. The Toscani say it's so the bread won't interfere with the taste of the dishes on the table, and I think they know what they're doing.
They've been making bread in the "bread capital of Italia," Altopascio, since the middle ages. The village was on a main pilgrimage route and the bakers ensured the pilgrims had bread each day. The bread's fame is due to the local water and the natural yeast in the air – but no salt.
Altopascio is just 20 KM southwest of Lucca (the birthplace of Puccini. Lucca is one of my favorite cities. The historical center is enclosed by medieval walls so wide that you can walk all around the centro storico on a grassy path atop the walls.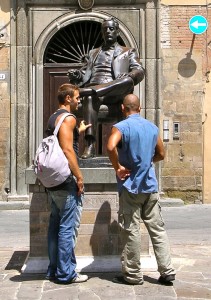 Here's a statue of Lucca's favorite son the composer Giacomo Puccini. There's a great bakery on the corner of the street leading into this piazza. I had my first bite of Buccellato Lucchese there. Buccellato is a gently sweet cross between bread and coffee cake, redolent of yeast and anise, studded with raisins and nuts and with a texture at once lightly tender yet seductively substantial. My best find in Lucca!
So, what's the final verdict on Tuscan bread? Decide for yourself with the Gambaccini family – former Altopascio bakers.
Of course, I'll be providing some more historical and cultural context for the four courses and four Italian wines we'll be sharing. Hope to see you there.
A presto!