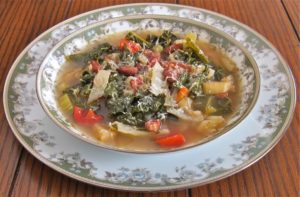 There's been a chill in the air so I decided to make my first soup of the fall season.
Minestrone was at the top of my list. It's easy to make, delicious and good for you.
The most difficult part of this recipe is chopping the vegetables. Otherwise, you just let the minestrone simmer away for an hour and a half, stirring from time to time.
The flavorful kale is a perfect companion for the tender meaty borlotti beans surrounded by bits of cabbage, potatoes and zucchini floating in the full-bodied vegetable broth. If you get lucky you may get a piece of nutty pancetta in your next spoonful.
Slice some crusty bread and you're ready for a hearty lunch or serve minestrone as a substantial first course for your next dinner on a chilly eve.
Leave out the pancetta for a vegetarian version. Either way minestrone is even better the next day so make sure you have some leftover.
Now I'm fortified for whatever fall has in store.
Buon appetio!

Mighty Minestrone--A Hearty Vegetable Soup
Combine your favorite vegetables into this easy soup. You'll be eating delicious, healthy minestrone in about an hour.
Ingredients
¼ pound pancetta, diced
1 carrot, quartered and cut in 1" slices
1 celery stalk cut the same as the carrot
1 zucchini cut the same as the carrot
2 medium potatoes, cut the same as the carrot
8 cherry tomatoes, quartered
½ red onion, minced
2 garlic cloves, minced
⅛ cup fresh Italian flat parsley
1 bay leaf
3 tablespoons extra virgin olive oil
1 cup borlatti or cannelini beans, soaked overnight and drained, or from a can, drained
8 kale leaves, sliced in 2-inch ribbons
½ head cabbage, sliced in 2-inch ribbons
Grated parmigiano
Sea salt and freshly ground black pepper to taste
Instructions
(Do not add salt until the beans are fully cooked so the beans don't toughen.)
Over medium-high heat put 2 tablespoons olive oil in a soup pot.
When the oil is hot cook the pancetta until it takes on some color.
Add the onions to the pot and saute until translucent.
Add the bay leaf, garlic, celery, carrots, potatoes, tomatoes and zucchini to the pot, mix well to coat everything with olive oil and cook for a minute or two.
Add 2 quarts water and bring the soup to a boil.
Add the beans to the pot and cook until the beans begin to soften, about 40 minutes.
Add the kale and cabbage to the pot and stir well.
Drizzle 1 tablespoon of olive oil over the top of soup, reduce the heat to low and simmer for about 40 minutes, until the beans and vegetables are tender.
When the minestrone is done add parsley, sea salt and black pepper to taste and stir well.
Sprinkle grated parmigiano atop each bowl and a drizzle of good olive oil as you serve it to your guests.