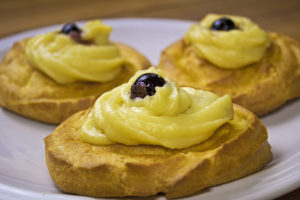 Move over St. Patrick. The Feast of St. Joseph, Father's Day in Italy is this Wednesday.
Zeppole di San Giuseppe is one of my favorite Neapolitan pastries.
But I only make these pastry cream filled puffs topped with an Amarena cherry once a year, on March 19.
Watch me make zeppole 2-ways so you can make zeppole this year too..
Here's a quick, light menu for Wednesday so you have room for zeppole at the end of the meal. Serve a traditional St. Joseph's Day spaghetti followed by my early Spring asparagus frittata.
Pair the fritatta with a simple mixed green salad dressed with extra virgin olive oil, balsamic vinegar and sea salt. Some crusty bread and you're all set.
Then get ready for a stupendous finish, your homemade zeppole.
Buona festa! Buon appetito!