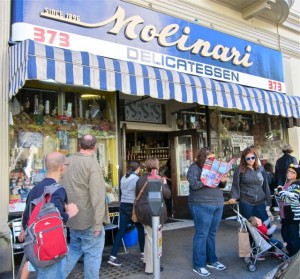 Marcia Gagliardi of Tablehopper blog fame shares her appreciation of 4 North Beach spots in her just-released video tour.
Marcia visits Caffe Trieste, Molinari Deli, Liguria Bakery and Stella Pastry. Find out Marcia's favorite coffee, focaccia, sandwich and sweet. I'm with her all the way. These are some of my favorite North Beach haunts.
If those tourists in the picture took my North Beach walking tour, or Marcia's video tour, they wouldn't have to scour that big map to figure out where to go.
Where's the best cannoli? Want a quick pasta fix? I have a few ideas. Who's still cooking inspired, authentic food you find in Venice, Tuscany, Rome, Calabria and Sicily? Want pizza? I always head to one of 4 places.
Tired of Italian, God forbid?  How about Mexican, Thai, French, or American? All of my favorite shops, markets, restaurants, cafes, bakeries, art galleries and bars are on our route, as we leisurely stroll through the Village.
Come out of the fog. Make North Beach your own. Let me know if you're interested in my 90-minute North Beach walking tour and I'll schedule one soon.
In the meantime, take Marcia's North Beach video tour.