A man can only be confined to the concrete jungle for so long. I needed a break from the city. I boarded Amtrak at Penn Station for the 3 hour ride up the coast to Rhode Island, looking forward to a week on the beach before heading back to San Francisco. A special dinner with friends at their beach house was on the schedule.
The fishermen were washing down their boats when we arrived early in the morning. The day's haul had been delivered to our Galilee RI fishmonger. And we were on a mission. I was making my friend her favorite meal. It was my birthday present to her–linguine with mussels and clams, boiled lobster and freshly picked sweet corn. Prosecco to wash it all down.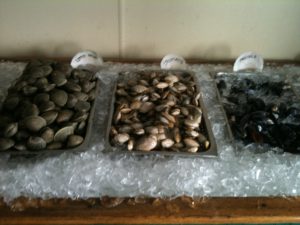 We had a hard time deciding between the little neck clams and the steamers. If I was still in Jersey I would have grabbed the little necks but in Rhode Island they love steamers, sweet little clams with a softer shell. To ensure tenderness when cooked quickly, I picked only mussels that were the same size as the steamers, small and heavy in my hand.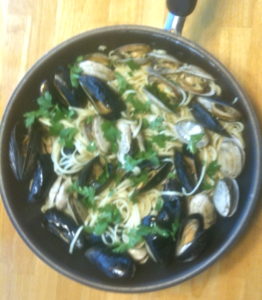 Here they are steamed in white wine, garlic, EVOO and parsley over linguine. Take the clams and mussels out when the shells open. Finish cooking the linguine in the briny broth and then mix in the clams and mussels. (Stay tuned an episode of steaming mussels and clams is coming up soon.)
Our fishmonger tempted us with this twelve pound monster from the Deep but we wanted smaller more tender ones for our special meal.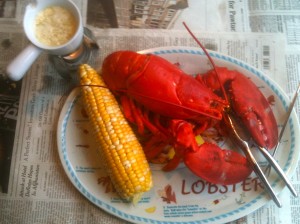 We bought my favorite size –one and a half pounders–tender and sweet. Put the lobsters head first in a big pot of boiling water. Cover the pot and bring it back to a rapid boil. Take them out of the pot after 10 minutes. I wrapped the freshly picked corn in plastic wrap sprinkled with salt and black pepper and a couple of dabs of unsalted butter and OMG nuked it for 3 minutes. Sweet and crunchy steamed in its own juices.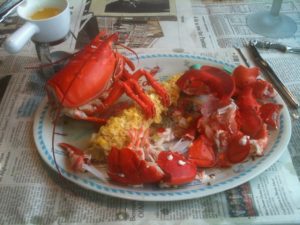 I only eat the claws and the tail. All of the bodies go to the birthday girl who scours every inch of the shell and legs for every last morsel of lobster–it prolongs the pleasure she says. Here's my dish after the feast.
If your in the area here's my fishmonger–always fresh and always top quality. It's right next to the Block Island ferry pier in Galilee RI.